Temporary single ticket
When the seat around the driver is closed, it is not possible to buy a ticket on board our buses. For those of you who cannot use the UL app, there is a temporary single ticket to buy in advance from our sales agents.
Travel only if you have to
UL follows the Swedish Public Health Agency's recommendations and urges everyone to only travel by public transport if you are completely healthy and symptom-free and really need to travel. We all need help to reduce the risk of spreading the infection.
Dormant single tickets
You can buy dormant (unstarted) single tickets from UL's sales representative. They can be used within 30 days from the date of purchase and you fill in the date and time on the ticket yourself in connection with you traveling.
Youth price: SEK 17 per zone
Price adult: SEK 27 per zone
Remember not to buy more tickets than you think you will use, as redemption is not applied. See special terms further down this page.
Here is an example of what the ticket looks like: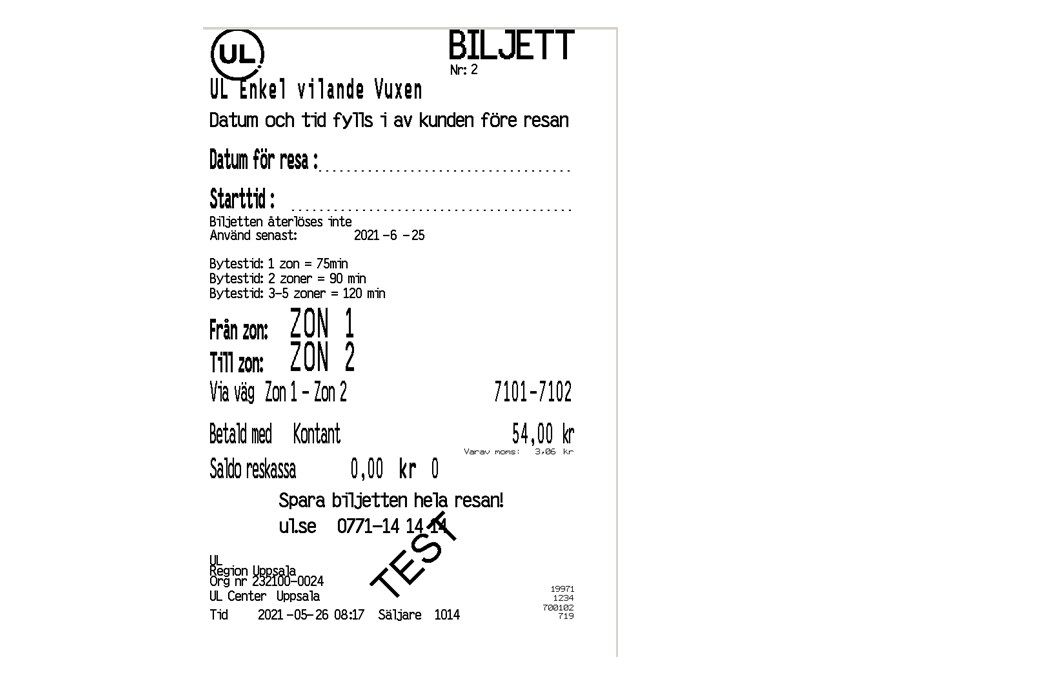 Zones
The dormant single tickets are available for all five UL zones and all different zone combinations within UL's traffic area.
How long a ticket is valid depends on the number of zones.
One zone: 75 minutes
Two zones: 90 minutes
Three or more zones: 120 minutes
Where are temporary single tickets sold?
You can buy dormant single tickets from all UL's sales representatives, with the exception of X-trafik's customer center in Gävle, where the ticket is currently not available for purchase.
Here is a list of sales agents
Special conditions
UL's general purchase and travel conditions apply, as well as the following special conditions according to §1:
The dormant ticket can be purchased until otherwise stated and must be used within 30 days from the time of purchase, after which the ticket becomes invalid and can no longer be used.
The dormant ticket can be purchased from UL's sales representative.
In order for the ticket to be valid when traveling, the travel date and the start time of the trip must be filled in with ink / durable pen on the ticket before boarding.
The ticket is valid for 75, 90 or 120 minutes from the start time of the trip, depending on how many zones the ticket is valid in.
Redemption of used or unused tickets is not applied to temporary single tickets.